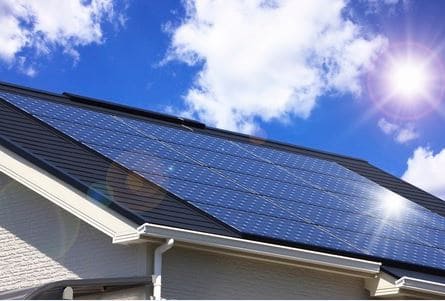 One of the more popular questions people ask before buying solar panels and having them installed on their home is this: will my roof be able to hold them?
Solar panels, including their mounting equipment, typically weigh between 2 to 4 pounds per square foot. This is a weight that most roofs can handle. As long as installers distribute the weight optimally, most roofs should have no problem with the addition of solar power systems.
Solar panel manufacturers have come up with solutions to work well for all sorts of roofs, whether they're flat or sloped.
Some of the things to consider before adding solar panels to your particular roof, though, include its age, slope, and whether or not adding panels voids the roof warranty.
First, keep in mind the age of your roof. If it's older (think 15 to 20 years old) and you plan to have a new roof replacement done soon, then it makes sense to wait to add solar panels at the same time the new roof is put on or right afterward.
Next, if you have a steep sloped roof special equipment may be needed to install panels; check with GR Solar Solutions beforehand to get an idea of what could be done to make it work out just fine. If your roof is made of specialized material such as slate tiles then installers may need to charge extra because they have to take special precautions not to damage the unique roofing material.
Sometimes people get nervous that solar panel installation will cause damage to their roof, leading to leaks. Generally, installers use sealants and metal flashing to make sure leaks do not occur.
What about the roof warranty? Adding solar panels may cause the roof warranty to be voided, but solar power system installers often add their own warranty into the mix so homeowners need not worry.
Finally, one other option is solar shingles. These integrate with conventional asphalt roof shingles.
If you have any questions about solar panel installation on your roof, please call GR Solar Solutions at 915-581-0461.
https://www.solarsolutions-texas.com/wp-content/uploads/2022/04/Solar-Solutions-_-Logo-300x300.jpg
0
0
Gad Ronat
https://www.solarsolutions-texas.com/wp-content/uploads/2022/04/Solar-Solutions-_-Logo-300x300.jpg
Gad Ronat
2016-11-04 12:32:53
2016-11-04 12:32:53
How Can You Tell If Your Roof Can Hold Solar Panels?