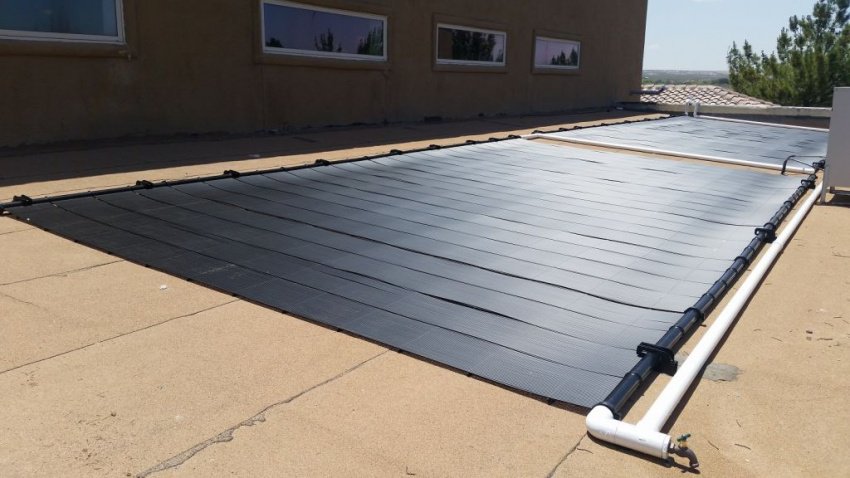 One of the nicest things to own and use is a pool with warm water. If the water's too cold, it's just not that nice. What about using solar pool heating to keep the water nice and warm?
The nice thing about solar pool heating is that it helps stretch the length of your swimming season, keeping your pool warmer for a longer period of time than if you didn't have it. As an environmentally-friendly way to heat pool water, solar energy from the sun helps keep your pool comfortable without requiring costly electricity or a refrigerant system with a noisy motor and compressor which eventually wears out or breaks down.
Most solar pool heating systems are fully automated whereas you set the desired temperature and barely ever think about it again for the rest of the swimming season. It's one of those systems that eventually pays for itself, and then the rest is essentially "free heat" for years to come. Many people like utilizing solar pool heating because it's not only good for the environment but ultimately saves them money in the long run.
So how does a solar heater work? A solar collector has small passages through which water flows and is warmed by the sun. The collector is able to monitor the pool water temperature so that when the set temperature is reached, water then bypasses the solar collector because the pool water is as warm as the owner wants it to be. Since energy from the sun is free, it's quite cost-efficient!
Solar Solutions of Texas has installed many solar pool heating systems over the years. Utilizing Heliocol solar panels, Solar Solutions is able to help heat swimming pools in a wide variety of climatic conditions– from the arid desert to cold mountain areas. Since 2006, Solar Solutions has installed more than 400 residential systems throughout Texas, New Mexico, and surrounding states.
If you want to keep your pool warm using energy from the sun, call Solar Solutions today at 915-581-0461.
https://www.solarsolutions-texas.com/wp-content/uploads/2022/04/Solar-Solutions-_-Logo-300x300.jpg
0
0
Gad Ronat
https://www.solarsolutions-texas.com/wp-content/uploads/2022/04/Solar-Solutions-_-Logo-300x300.jpg
Gad Ronat
2016-06-14 20:41:05
2016-06-14 20:41:05
The Benefits of Solar Pool Heating