Why Use a Generac Generator?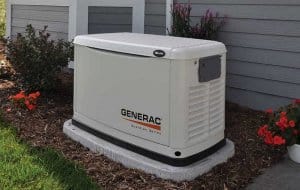 In this day and age, there are plenty of things that can go wrong to threaten the stability of your home or business. But nothing is more devastating than a power outage—a situation that can occur at any time and leave you without basic necessities like heat, light, and connectivity. Fortunately, standby generators, such as Generac, can help protect you and your family in such an event, providing you with the electricity you need to stay safe get back to business as usual.
But as a concerned business or homeowner, you're probably wondering: Which standby generator is right for me? With a bewildering array of options available, it can be tough to find the perfect standby generator for your needs. Fortunately for you, there is one brand that knows standby generators better than anyone else: Generac.
For over 30 years, Generac has been developing standby generators that help consumers and businesses stay safe and secure in times of need. But given they are often such a massive purchase; it can be tough to know if you're making the right decision. To help you to make a better-informed decision, we've put together a list of the top five reasons to use a Generac standby generator.
Top 5 Reasons to Use a Generac Standby Generator
1) Generac Generators Provide Peace of Mind During Power Outage
You never know when an emergency will occur—and if you don't have a standby generator, you can say goodbye to some important aspects of your life. One of those is peace of mind. After all, there's something immensely comforting about knowing that no matter what happens, you and your family will be safe and comfortable. Generac standby generators provide peace of mind because they power your home or business during a power outage—providing you with electricity even if your local electric company can't.
In fact, many users say that having a standby generator reduces their anxiety levels during power outages, knowing that they are prepared for any situation. What's more, Generac standby generators are known for working quickly in times of need—generating power almost immediately after being activated.
2) Generac Generator Could Save Your Life
Many individuals due to varied reasons depend on sophisticated, in-home, electronic medical equipment to provide them with necessary life support. And without a steady source of power, it could be next to impossible for you or your loved ones to receive proper care. That's why owning a standby generator could literally save your or your loved one's life!
Capable of immediately starting and taking over your home's energy demands during an outage; Generac standby generators have been known to extend lives that depend on oxygen concentrators or other machines that rely upon electricity to operate properly.
Moreover, due to their advanced technology, Generac standby generators are particularly adept at regulating voltage—even under duress—ensuring maximum efficacy for any piece of equipment connected to it. But don't just take our word for it; talk to owners of medical facilities and homeowners who use Generac generators today.
3) Your Neighborhood Will Envy You During Power Outages
Life's better when you're well-liked by your neighbors. I'm not talking about showing up to their Halloween party in an ape costume or anything like that—I'm just saying that it's hard to dislike someone who is capable of doing nice things for others and helping out during times of need. And if everyone knows that you have a standby generator, they're bound to keep you in mind if their power goes out too!
That's why owning a standby generator can help build strong ties with those around you as long as people know what your generator can do. Generac generators are famous for coming to life almost immediately once started—generating backup electricity almost instantly upon activation. What's more, many Generac models are able to handle any size load thanks to advanced inverter technology used in most newer models.
4) Generators Are Highly Convenient & Easy to Install & Maintain
You want convenience, not a hassle! The old adage rings true when it comes to generators. And that's why choosing Generac standby generators is one of the smartest moves you can make for your home or business. Due to their advanced, fuel-efficient technology and compact design, Generac standby generators don't require much time or effort to install—and they're just as easy to maintain. That means minimal downtime during an outage and easier maintenance than with most other types of generators on today's market.
5) Your Business Won't Suffer
Don't let the mistake of one end up costing you everything you've worked for. Generators can be a great asset for many businesses—including construction sites, hospitals, call centers, and retail stores—providing them with protection from power outages that can potentially slow or stop their workflow.
A Generac generator means that your business will never suffer during an outage due to its ability to seamlessly pick up where your local electric company left off. With an uninterrupted supply of power, you'll find it easy to stay productive even when others are forced to stand still. And since they require little maintenance, you'll also have more time on your hands—allowing you more freedom for managing other aspects of your business as well!
Conclusion
When it comes to safeguarding your home or business from power outages, no one does it better than Generac. That's why so many people choose to outfit their buildings with standby generators from us each year. So why wait any longer? Engage with your local Generac Dealer today and start enjoying all of these benefits for yourself!
https://www.solarsolutions-texas.com/wp-content/uploads/2022/04/Solar-Solutions-_-Logo-300x300.jpg
0
0
Mario Salinas
https://www.solarsolutions-texas.com/wp-content/uploads/2022/04/Solar-Solutions-_-Logo-300x300.jpg
Mario Salinas
2021-12-01 03:22:17
2023-08-21 17:28:14
Why Use a Generac Generator?